So the crowds are beginning to dwindle and the unruly weather is subsiding somewhat. The end of August probably sees Killarney at her most attractive as the throngs of tourists who invade the town during July and early August begin to lessen in strength and number and it rains (a bit) less.
So, why not try cycling? "Pah! Cycling? I came on holiday to relax not to exert myself with damn physical activity", I hear you wail. But fear not for cycling is only as exerting as you make it and, truth be told, the best way to get around Killarney is by bike. I know from experience, I cycle through my hometown of Killarney every day. Honest. And it's rather wonderful.
But where to cycle? That's the easy part. A better question would probably be; where not to cycle in Killarney? You're spoilt. Especially you who be residing in Killarney Holiday Village. You're at the doorstep to Killarney National Park. You're 3 miles from Torc Waterfall. You're 10 miles from Lady's View. You're directly adjacent to Killarney National Park and right along the Ring of Kerry! Frankly, you're in the Mecca of cycling.
For the casual cyclist I'd recommend Torc Waterfall. It's three miles only, it's all straight road, with very few hills or bends, and you get to see a purdy waterfall after all that. And then you can climb Torc Mountain if you feel up to it.
For the Bradley Wiggins or the Lance Armstrongs amongst us, cycle to Ladies View. 10 miles doesn't sound all that exerting, but believe me, the route to Ladies View is. The road after Torc Waterfall is rocky, bumpy, narrow and full of inclines and steep rises. It's brilliant craic basically. And you get to see this when you finish –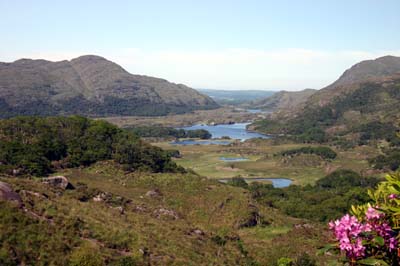 Ain't that a pretty picture?
Obviously you'll need to acquire a bike for which to cycle upon. And never fear, as I have a couple of places in mind. Just up the road from you, literally 200m, on the Killarney side,  lies a bike rental shop. You can't really miss it to be honest.
If they don't tickle your fancy you can always check out O'Sullivan's in the town centre, which is located directly behind the Inisfallen Mall, in the Beech Road car park. And then there's always the Killarney Súgán Hostel, also located in the town centre, which also caters for the fanciful cycling enthusiast. The Súgán is located on at the foot of the Lewis Road, near College Street. Shop around till you find the best price is my advice.
So you know where to get the bikes, you know where to go and you're in the right place – well then, what are you waiting for?