Beaches in Kerry
We hope you've been enjoying the fine weather we've been having this past week. There's nothing quite like Killarney in the sun, is there? The good news is the heatwave will be lasting into next week so you might be gagging for the beach to catch some rays and to placate the kids. With that in mind here's three great little beaches around South Kerry we heartily recommend.
1. Inch Beach
This gorgeous sandy beach is nestled at the foot of a long mountain road which eventually will take you to Dingle. Lying on the Dingle Peninsula but not far from the Ring of Kerry, Inch is popular year round and is famed for its surfing (Indeed, if surfing is your thing check out Kingdom Waves, a surfing school that runs lessons in Inch.). But if you're just looking for some lovely, relaxing sunbathing and some great scenery to accompany it then Inch is perfect too. It's about a quarter of an hour drive from Killarney and here is a route on Google map for you to use.
2. Dooks Beach
What makes Dooks great is how secluded and quiet it is. It may not be quite as large as Inch but its charm is it's coziness and serene atmosphere. It's still a great beach in its own right however and it too has some spectacular scenery on offer. Dooks is just off the Ring of Kerry and is not far from the town of Killorglin. It is next to a golf course which is conveniently called Dooks Golf Course and it's there that you can park your car and walk to the beach. Be warned however; the road leading up to the golf course is quite narrow! But it's definitely worth it. Here's a route planner from Google maps on how to get to Dooks from Killarney.
3. Dundag, Muckross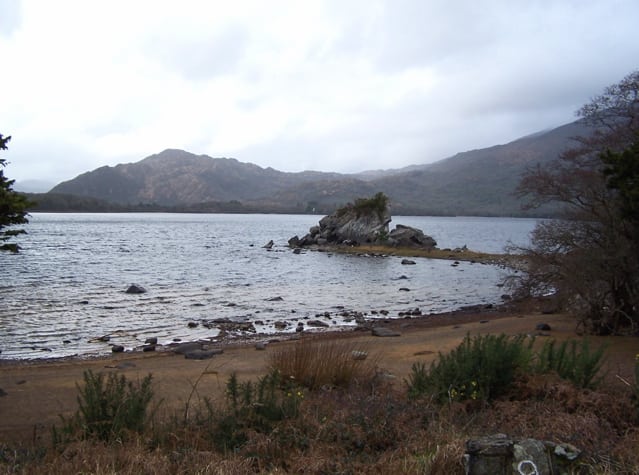 Ok, so we're sort of cheating here as you may have guessed. Killarney, being inland, does not have a beach of course but we do have a number of lakes and lakes too can have sandy shores. On the shores of Muckross lake in the National Park, just a short walk from Muckross House, is Dundag, which is a popular spot for tourists and locals to relax on warm days. There's sand, there's trees, there's mountains and there's a great big lake for the kids to enjoy. All the fun of a beach without the hassle! Of course, it is quite small in comparison to a proper beach and it can get busy on the weekends but if you're looking for a cool, relaxing afternoon after a long day of walking then Dundag is perfect.